Inaugural FTE Startup Hub Live Day proves a big success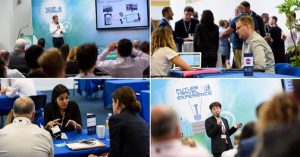 On 5 June 2018, the first FTE Startup Hub Live Day took place at the RDS in Dublin, Ireland. The pioneering event attracted almost 40 international startups and a wide selection of Corporate Partners, including JetBlue Technology Ventures, Gatwick Airport, WOW air, Vantage Airport Group, Ryanair and Datalex.
Each of the startups in attendance had an opportunity to deliver an elevator pitch to those in attendance, before participating in one-to-one meetings with the corporates to explore potential business partnerships.
The corporate attendees also participated in the Corporate Partners Innovation Network lunch, which provided an opportunity to share experiences of working with startups and driving innovation within their organisations, while there were plenty of opportunities for informal networking throughout the day.
Here's some of the feedback we received from attendees:
Raj Singh, Managing Director, JetBlue Technology Ventures: "I've really enjoyed it. There were a lot of interesting startups and actually a lot of lively discussion, especially during the meeting sections, which were excellent. We had a packed agenda – we had two meeting tables, which was great."
Alan McLaren, Head of IT Project Delivery, Gatwick Airport: "It's been excellent. The format was really well done and the one-to-one meeting sessions with the individual startups was really useful. Getting the extra 15 minutes with them to really explore their pitch and understand the value they can add has been really beneficial."
Sveinn Akerlie, CIO/Head of WOW labs, WOW air: "The FTE Startup Hub Live Day was very interesting and I really liked the set-up of the event. The three-minute pitches were great, as you get the main information behind every single idea. It is a nice way of filtering out what you might be interested in."
Martin O'Regan, CEO, Inflightflix: "The FTE Startup Hub Live Day was a fantastic opportunity to pitch to multiple airlines and key decision-makers in the industry. Afterwards, an opportunity potentially worth multi-million euros was presented to me, which is amazing. It's been a great opportunity. Everything was 10 out of 10."
Jere Tala, Head of Travel Retail, QuietOn: "It has been a fantastic event. I have been to a lot of different startup events, however this is the first one completely travel-related. That makes it really stand out from other events, because each and every company and every stakeholder is somehow related to travel."
Brian Whelan, CEO, Travacoin: "The FTE Startup Hub Live Day was fantastic. Giving people like us – the startups – a platform like this is like oxygen for us."
Simon Dempsey, CEO, LikeWhere and FTE's Mayor for Startups: "I think the first FTE Startup Hub Live Day has been really, really strong. It's been a great opportunity for emerging companies and some more established scaleups to meet with the Corporate Partners who have been here onsite all day. It's also been really useful to have peer-to-peer learning from one early-stage company to another. The pitches were very strong today, there was lots of really interesting content, and it's been a great opportunity to be around like-minded people."
The next FTE Startup Hub Live Day will take place alongside Future Travel Experience Global 2018 on Wednesday 12 September at the Mandalay Bay Resort in Las Vegas.