Marubeni joins the FTE Innovation & Startup Hub as an Enterprise Partner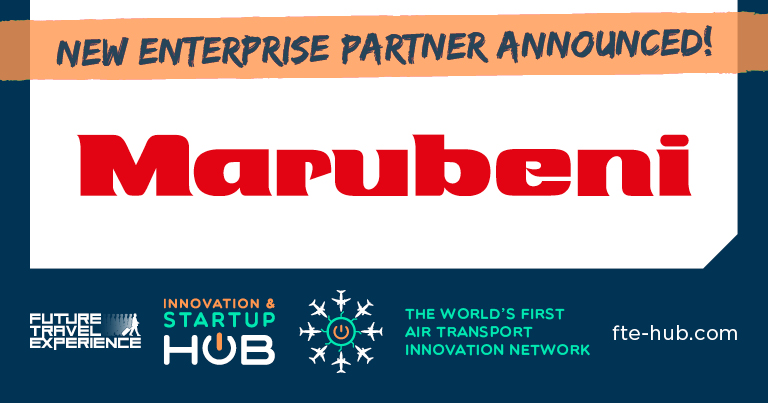 Future Travel Experience (FTE) is proud to announce that Marubeni has joined the FTE Innovation & Startup Hub, the world's first air transport innovation network.
Marubeni joins as an Enterprise Partner, a level of membership reserved for the most pioneering air transport industry vendors. The company plays a diverse and important role in the aviation sector, with expertise ranging from ground handling to private jet charter. Marubeni Corporation is a shareholder of Swissport Japan, AiRO and JAL Business Aviation, and is a sales agent for XOVIS and Assaia in the Japanese market.
Marubeni becomes the 16th corporate member, joining an impressive portfolio of existing partners, including the likes of United Airlines, Los Angeles World Airports, Japan Airlines, Hong Kong International Airport, Southwest Airlines and Pittsburgh International Airport.
Ryan Ghee, Head of Strategy & Development, FTE Innovation & Startup Hub, said: "We are delighted to welcome Marubeni on-board as our latest Enterprise Partner. The FTE Innovation & Startup Hub prides itself on bringing together the most forward-thinking organisations in the global air transport industry, so Marubeni is a natural fit.
"We're looking forward to working with the Marubeni team to help them identify the very best startups that can help them advance the industry, and they will undoubtedly add a lot of value to all of our upcoming virtual and in-person events and activities."
Koichi Tagei, VP & General Manager, Marubeni America Corporation, said: "We are very proud to become an Enterprise Partner of the FTE Innovation & Startup Hub. The impact of COVID-19 has made cross-country and cross-industry partnerships more important than ever, and we believe FTE's impressive network will help us stay up to date on the latest seeds and needs and provide us with new business opportunities. We hope that Marubeni's capabilities will contribute to the recovery and development of the airline industry."
You can learn more about Marubeni on their company website.