Aeroporti di Roma joins the FTE Innovation & Startup Hub as a Corporate Partner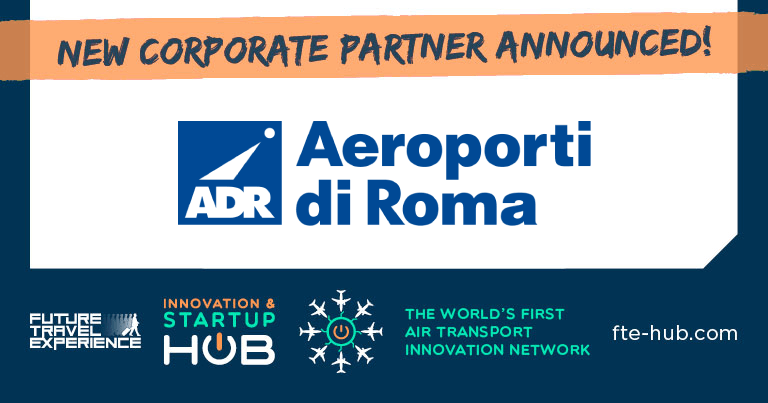 Future Travel Experience is delighted to announce that Aeroporti di Roma (ADR) – the operator of Rome's Fiumicino Leonardo da Vinci International Airport and Ciampino G.B. Pastine International Airport – is now a Corporate Partner of the FTE Innovation & Startup Hub.
Through its membership of this unique air transport innovation network, ADR will engage with the aviation industry's most forward-thinking startups, scaleups, airports, airlines and various other international innovators. The organisation will also participate in members-only events both online and in-person.
ADR's membership comes at a time when the Italian airport operator has placed innovation, sustainability and quality at the heart of its strategy. Landmark projects include the launch of ADR's "Innovation Hub", which opens in June and will be located in Terminal 1 at Fiumicino Airport, and the development of an "airports for innovation" network to drive collaborations with startups and open innovation partners. In 2021, ADR's commitment towards innovation was further acknowledged by ACI Europe's Digital Transformation Award.
Emanuele Calà, Vice President of Innovation & Quality, Aeroporti di Roma, commented: "This partnership is a key for us to extend even more our open innovation approach, having the passenger always in the centre of our projects and developments with the industry's stakeholders and startups from all around the world."
Ryan Ghee, Head of Strategy & Development, FTE Innovation & Startup Hub, said: "In recent years, Aeroporti di Roma has emerged as one of the most innovative airport operators in Europe. We are therefore delighted that the organisation has decided that now is the right time to join the FTE Innovation & Startup Hub.
"Everyone at Future Travel Experience is looking forward to working closely with the ADR team to support their innovation strategy and introduce them to high-potential startups through our wide-reaching international network."
To learn more about the FTE Innovation & Startup Hub, please contact us here >>